Watch our webinar to learn:
Why KYC is so essential in Insurance, Healthcare, and Fintech?
How to improve customer experience using KYC data
Which vital signs can we collect, and how they can be utilized for KYC?
What are the added benefits of video-based vital signs monitoring in KYC?
Use Cases
Demo of Binah.ai's solution!
$8 billion. That's the cost of fraud in Healthcare and Insurance, last year alone.
Know Your Customer (KYC) initiatives started out in the financial sector, but have made strides in Insurance and Healthcare for helping to reduce the risk of fraudulent behavior, by providing more insight into customers at the point of onboarding, underwriting, or claim.
Today, digital healthcare technology is augmenting this process with the help of AI.
Utilize remote, video-based health, and wellness monitoring to extract vital signs in real-time, stopping fraudulent claims before they get processed. On top of this, provide better solutions and products, stronger customer support, and value-added services in the wellness space, all from any camera-equipped device.
Reduce Your Risk While Improving Customer Experience
Integrate Binah.ai's technology and assess clients' wellbeing as part of your KYC Strategies
Easy-to-use
Just by looking at the device's camera
No Wearables Needed
No need to purchase
wearables
Easy to Integrate
Available as SDK or end-to-end application platform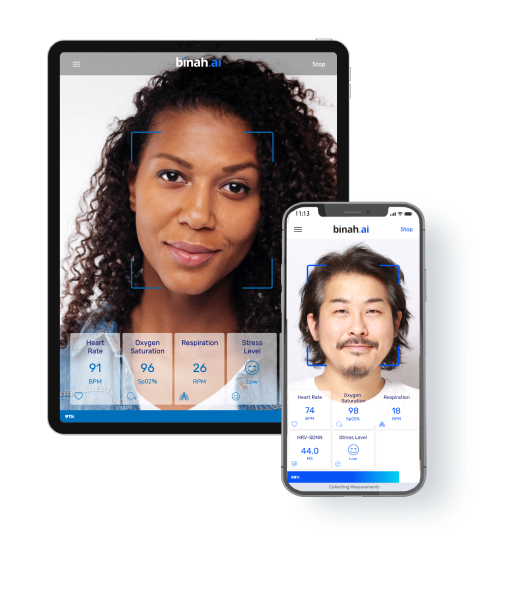 Always Accessible
Supported by most smartphones, tablets and laptops
For All
Supports any gender and skin color
Cost Saving
A cost-effective solution to remote wellness monitoring
Unique Mix of AI
& Signal Processing

Enable users to extract a wide range of vital signs including heart rate, heart rate variability (SDNN and/or RRi raw data), oxygen saturation, respiration rate, mental stress, and soon - blood pressure, from a smartphone, tablet, or laptop camera.