Watch our webinar to learn:
How is RPM changing healthcare
COVID-19 as a catalyst for RPM
What do you need for RPM?
Who is in need of RPM?
Disruptive technologies that will change RPM forever
Remote Patient Monitoring (RPM) is gaining traction as a vital part of today's healthcare reality. There are a number of benefits in being able to monitor health status remotely, empowering health professionals to use continuous insight from the patient as part of an ongoing treatment plan. RPM allows the elderly or disabled to live independently for longer and reduces the load on in-person clinics, and long-term facilities, too. Remote Patient Monitoring has been shown to reduce the amount of hospitalizations, as well as the time that patients spend in hospitals as a whole. This is more than just a cost-cutting exercise, it also improves the patients' quality of life. However, RPM can be costly and complex. Patients and insurance and healthcare services will not be able to take on all this burden, so what's the answer?

Watch our webinar to learn how innovative, disruptive technologies will forever change the way remote healthcare services are delivered and served, to the benefit of the healthcare industry, insurance stakeholders, as well as patients themselves.
Extract Health Data Remotely
With Binah.ai
Easy-to-use
Just by looking at the device's camera
No Wearables Needed
No need to purchase
wearables
Easy to Integrate
Available as SDK or end-to-end application platform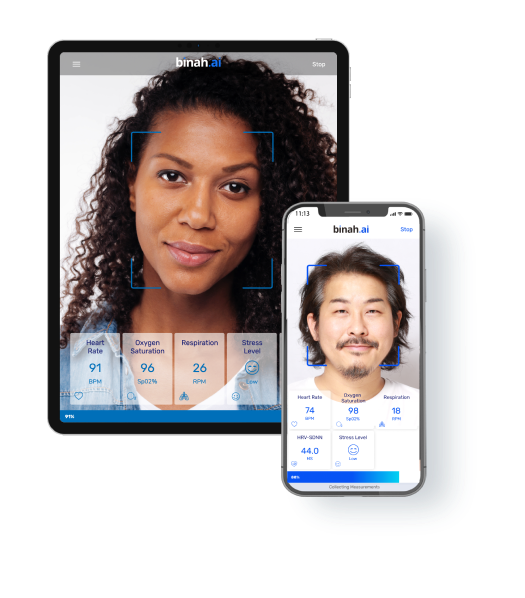 Always Accessible
Supported by most smartphones, tablets and laptops
For All
Supports any gender and skin color
Cost Saving
A cost-effective solution to remote wellness monitoring
Unique Mix of AI
& Signal Processing

Enable users to extract a wide range of vital signs including heart rate, heart rate variability (SDNN and/or RRi raw data), oxygen saturation, respiration rate, mental stress, and soon - blood pressure, from a smartphone, tablet, or laptop camera.