In this webinar you will learn:
The importance of health data in today's connected insurance world
How to achieve digital transformation with real-time, customer-provided health data
How Binah.ai's technology works - including a live demo
The key relationship between vital signs and clients' health status
A wide range of applications for health data in Insurance
Practical use cases and customer success stories
Companies in the Insurance industry need real-time, clients' health status insights to better calculate risks and provide a better, more personalized level of customer service. Actuaries and risk managers need to identify trends or emerging risks and make well-informed decisions on how to build their risk programs.
Wellness services providers, look at this same data to improve their customer service and upgrade their offering.
These companies need reliable health information to help their customers improve their wellbeing, be more productive, lead a healthier and happier life and positively contribute to society.
Binah.ai's innovative, AI-powered technology allows insurance and wellness companies to remotely collect important health and wellness data, provided by the customer themselves. This is achieved by the user just looking at a smartphone or laptop camera.
Heart rate? Heart rate variability? Mental stress? What do these metrics really mean about your clients' general health status? How can you use these metrics to flag escalation, calculate costs, or make smarter risk assessments?

Join Binah.ai's Chief Medical Officer, Dr. Naveh Tov Ph.D., and CEO David Maman for an overview of Binah.ai's technology and solutions, and learn about the relevance of all the vital signs delivered by our technology to the health status of your prospects and clients.
Access customer-provided insights
with a tool that's already in everyone's pocket
Easy-to-use
Just by looking at the device's camera
No Wearables Needed
No need to purchase
wearables
Easy to Integrate
Available as SDK or end-to-end application platform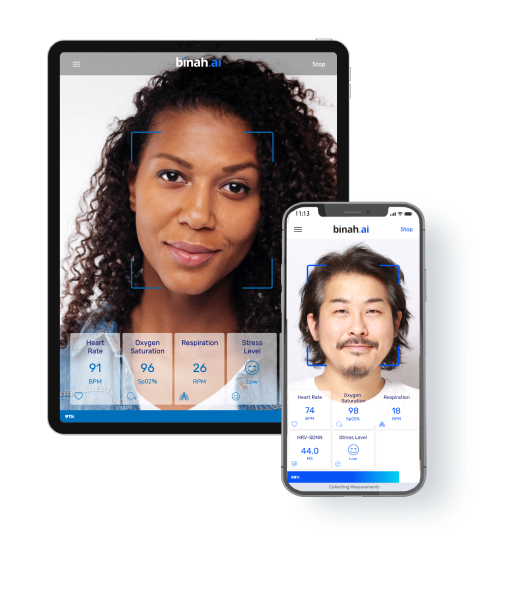 Always Accessible
Supported by most smartphones, tablets and laptops
For All
Supports any gender and skin color
Cost Saving
A cost-effective solution to remote wellness monitoring
Unique Mix of AI
& Signal Processing

Enable users to extract a wide range of vital signs including heart rate, heart rate variability (SDNN and/or RRi raw data), oxygen saturation, respiration rate, mental stress, and soon - blood pressure, from a smartphone, tablet, or laptop camera.