In this webinar you will learn:
The importance of wellness monitoring in disease prevention and treatment - for both patients and healthcare services
The reality of remote wellness monitoring in telehealth today
More about Binah.ai's wellness monitoring for telehealth - including a demo
Use cases for wellness monitoring in telehealth
There is no question that telehealth and digital healthcare solutions will witness a huge growth in adoption over the coming years. Long envisioned, telehealth has been catapulted into reality by the current Covid-19 pandemic. It will increasingly allow medical services to reach out to larger populations and will gradually close the healthcare inequity gap. But telehealth should not be only about a momentary, online physician-patient encounter for the purpose of treating a current health issue. As healthcare expands into preventive care and moves partially out of the hospital, so will telehealth.
Adding real-time, remote wellness monitoring capabilities to telehealth services to collect vital health data, can drastically:
Improve preventive care and treatment
Reduce hospital readmission rates
Offer predictive, real-time health data for improved decision-making
Reduce mortality rates
Empower patients with a tool for staying on top of their own wellbeing
Monitor Wellness Remotely
With Binah.ai
Easy-to-use
Just by looking at the device's camera
No Wearables Needed
No need to purchase
wearables
Easy to Integrate
Available as SDK or end-to-end application platform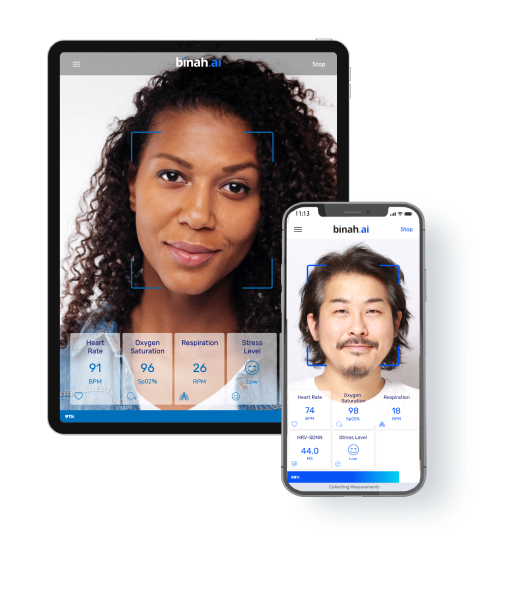 Always Accessible
Supported by most smartphones, tablets and laptops
For All
Supports any gender and skin color
Cost Saving
A cost-effective solution to remote wellness monitoring
Unique Mix of AI
& Signal Processing

Enable users to extract a wide range of vital signs including heart rate, heart rate variability (SDNN and/or RRi raw data), oxygen saturation, respiration rate, mental stress, and soon - blood pressure, from a smartphone, tablet, or laptop camera.