Watch our webinar to explore:
Why digitized wellness programs are critical for insurers
How Binah.ai help insurers:
Access objective, client-provided health data with Binah.ai
Turn care from reactive to proactive
Improve risk management and offer a more personalized customer experience
There is a growing consensus among experts that the insurance industry is shifting from one that helps detect and repair health issues to one that also helps predict and prevent them. Given the growing number of clients interested in providing insurers with personal details in exchange for personalized health-management services, innovative insurers are changing the insurance landscape with shared-value wellness services. While guiding clients towards improved health, giving them more control over premium pricing, and increasing overall satisfaction, these services allow insurers to increase the precision of risk assessment, accelerate onboarding and speed up time-to-value. To stay competitive, insurers will need to adapt to this shift and creatively reconstruct products and services to cater to clients' needs.
Watch our latest webinar to learn how Binah.ai's video-based, remote vital signs monitoring provides insurers with the real-time, client-provided health data they need to transform their wellness services.
Monitor Wellness Remotely
With Binah.ai
Easy-to-use
Just by looking at the device's camera
No Wearables Needed
No need to purchase
wearables
Easy to Integrate
Available as SDK or end-to-end application platform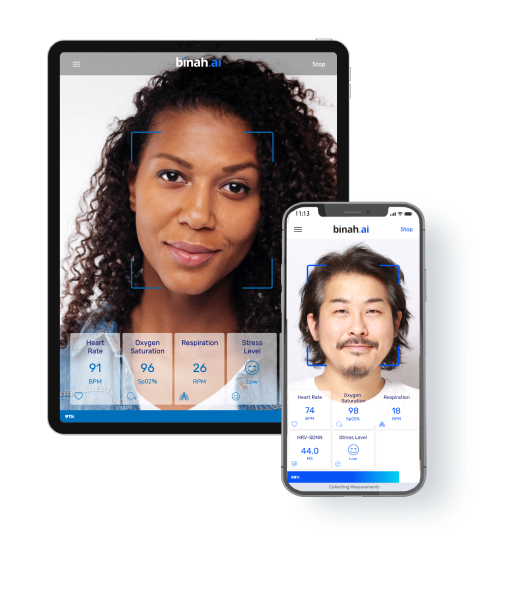 Always Accessible
Supported by most smartphones, tablets and laptops
For All
Supports any gender and skin color
Cost Saving
A cost-effective solution to remote wellness monitoring
Unique Mix of AI
& Signal Processing

Enable users to extract a wide range of vital signs including heart rate, heart rate variability (SDNN and/or RRi raw data), oxygen saturation, respiration rate, mental stress, and soon - blood pressure, from a smartphone, tablet, or laptop camera.