Step into the future of health and wellness monitoring:
Discover how to measure blood pressure using a smartphone camera remotely or onsite
Learn how this capability positions payers and providers to dramatically reduce health risks and transform global awareness of blood pressure
See how easy it is to incorporate into your offering to boost your services
High blood pressure (hypertension) can quietly damage the body for years before symptoms develop. Uncontrolled high blood pressure can lead to disability, poor quality of life, and even fatal heart attacks or strokes. Though nearly 7.6 million deaths worldwide are attributed to high blood pressure each year, an estimated 50% of people don't even know they have it.
Hear Chief Medical Officer, Dr. Naveh Tov, explain how monitoring blood pressure with Binah.ai can help you save lives, improve people's health, and reduce health risks.
David Maman, Binah.ai Co-founder and CEO, will take the stand to show you how it works, how simple it is to incorporate into your current offering, and why you should join our mission to support Health.Care.Anywhere.
Monitor Health and Wellness
Remotely
with Binah.ai
Easy-to-use
Just by looking at the device's camera
No Wearables Needed
No need to purchase wearables
Easy to Integrate
Available as SDK or end-to-end application platform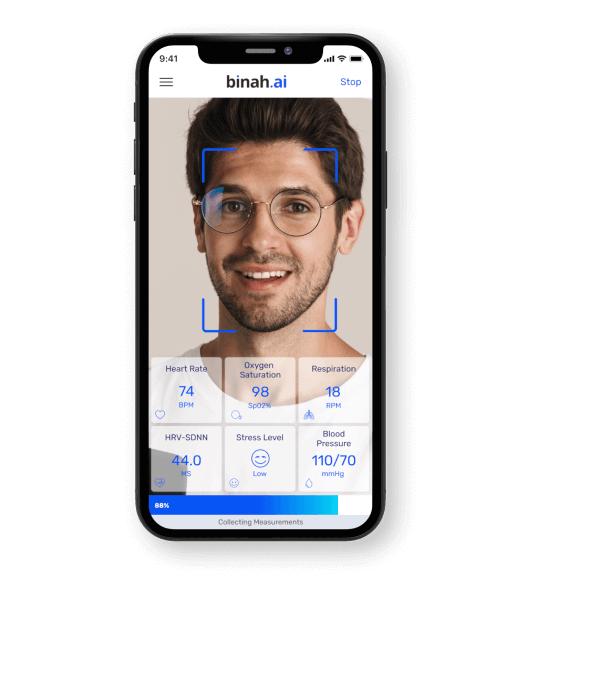 Always Accessible
Supported by most iPhones and Android smartphones


For All
Supports any gender and skin color
Cost Saving
A cost-effective solution to remote wellness monitoring
Unique Mix of AI & Signal Processing
Remotely extract your end-user's real-time

blood pressure,

heart rate, heart rate variability

(SDNN and/or RRi raw data),

parasympathetic activity, sympathetic stress, oxygen saturation, respiration rate, and pulse respiratory quotient

just by having them look at a smartphone camera. Anytime, anywhere.