Tune in to learn about:
The booming Wellness Tourism trend
Adding video-based wellness and health checks to smart devices in hotels, spas, and wellness centers
Providing travelers with the scientific health data behind their wellness status
Integrating video-based health and wellness checks into apps to enable travelers to stay on top of wellbeing while traveling
Demo of Binah.ai's video-based health check and bloodless blood test software
The Covid-19 pandemic has changed the nature of travel. Once limited to the wealthy in search of a break from reality, the travel industry is seeing an influx of travelers looking for an experience that is physically, mentally, spiritually, and intellectually nourishing. Most of all, they want this experience to help them live better lives once they return to their homes. Tune in to learn how software-based health and wellness monitoring can help insurers and wellness providers empower travelers to integrate health into travel and into everyday experiences.
Put Wellness Checks in the
Palms of Travelers
Easy-to-use
Just by looking at the device's camera
No Wearables Needed
No need to purchase wearables
Easy to Integrate
Available as SDK or end-to-end application platform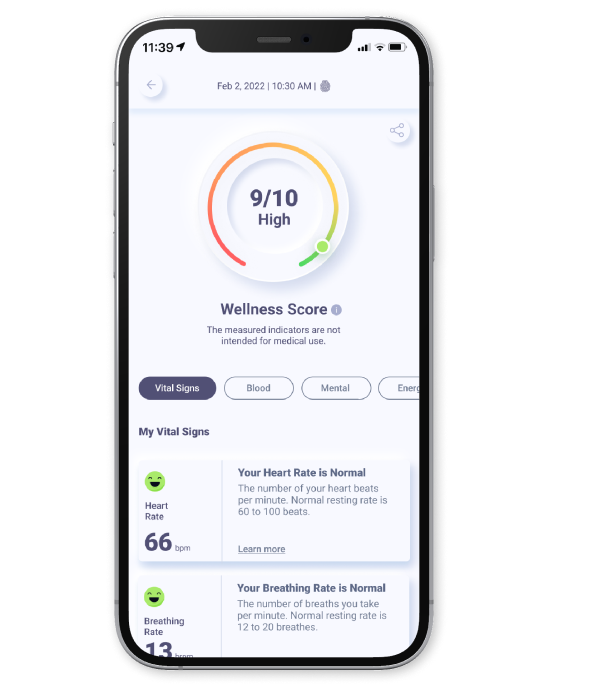 Wide support
Supported by most iPhones and Android smartphones


For All
Supports any gender and skin color
Always available
Technology runs on the device, making it available even without internet connection
Empower Travelers to Monitor Vital Wellness Indicators
Enable travelers to take bloodless blood tests, get a personal wellness score and measure a wide range of critical biomarkers in just 60 seconds by looking at their personal device camera.



*Cholesterol total is under research